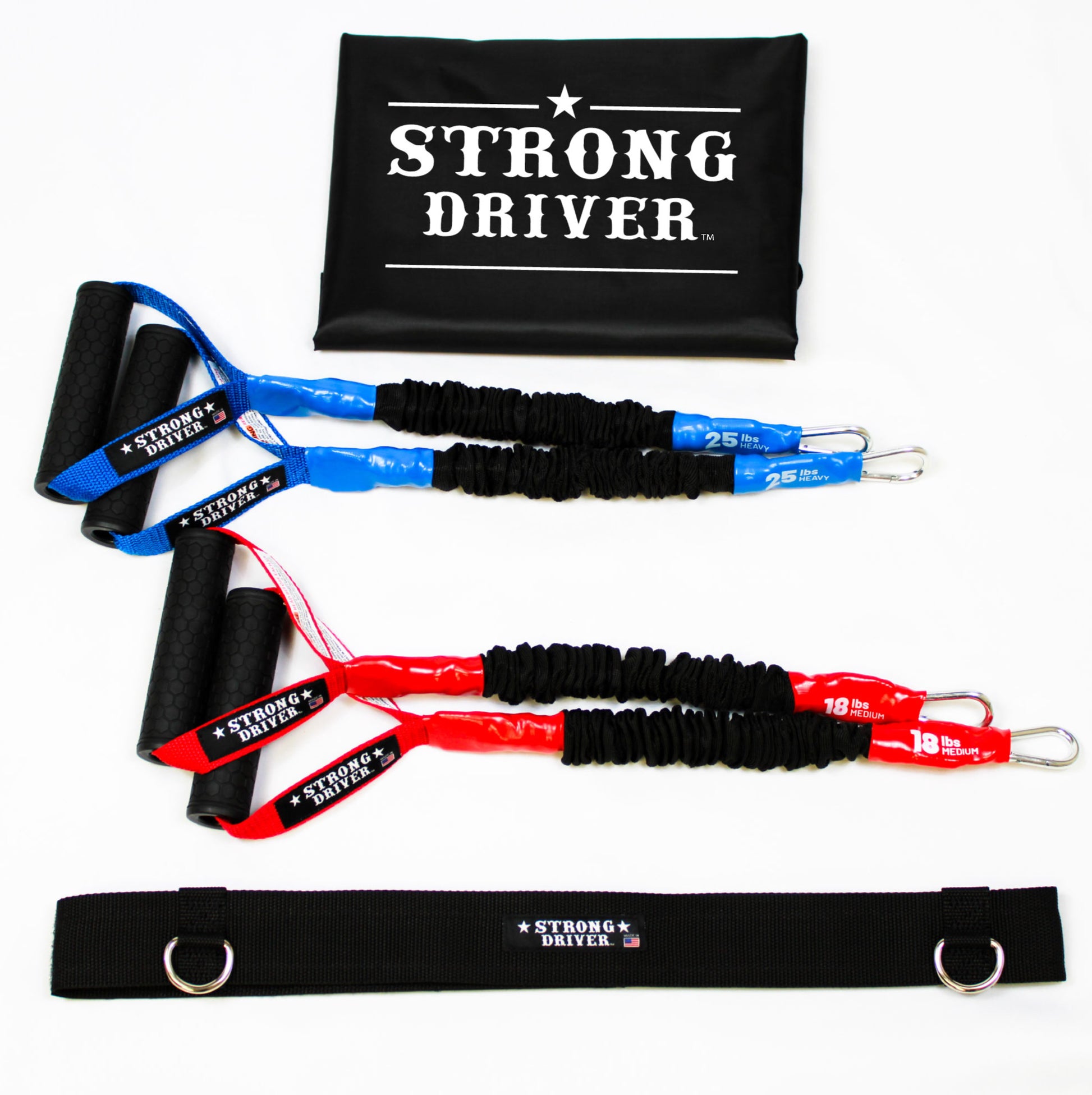 Strong Driver
Your Over-The-Road in Cab Fitness System! Proudly Made In America. Designed by a Trucker for the Trucker. Build Muscle, Increase Strength, Reduce Fatigue and Stress that comes with the job.
Regular price
$99.00 USD
Sale price
$89.00 USD
Unit price
per
Sale
Sold out
Share
View full details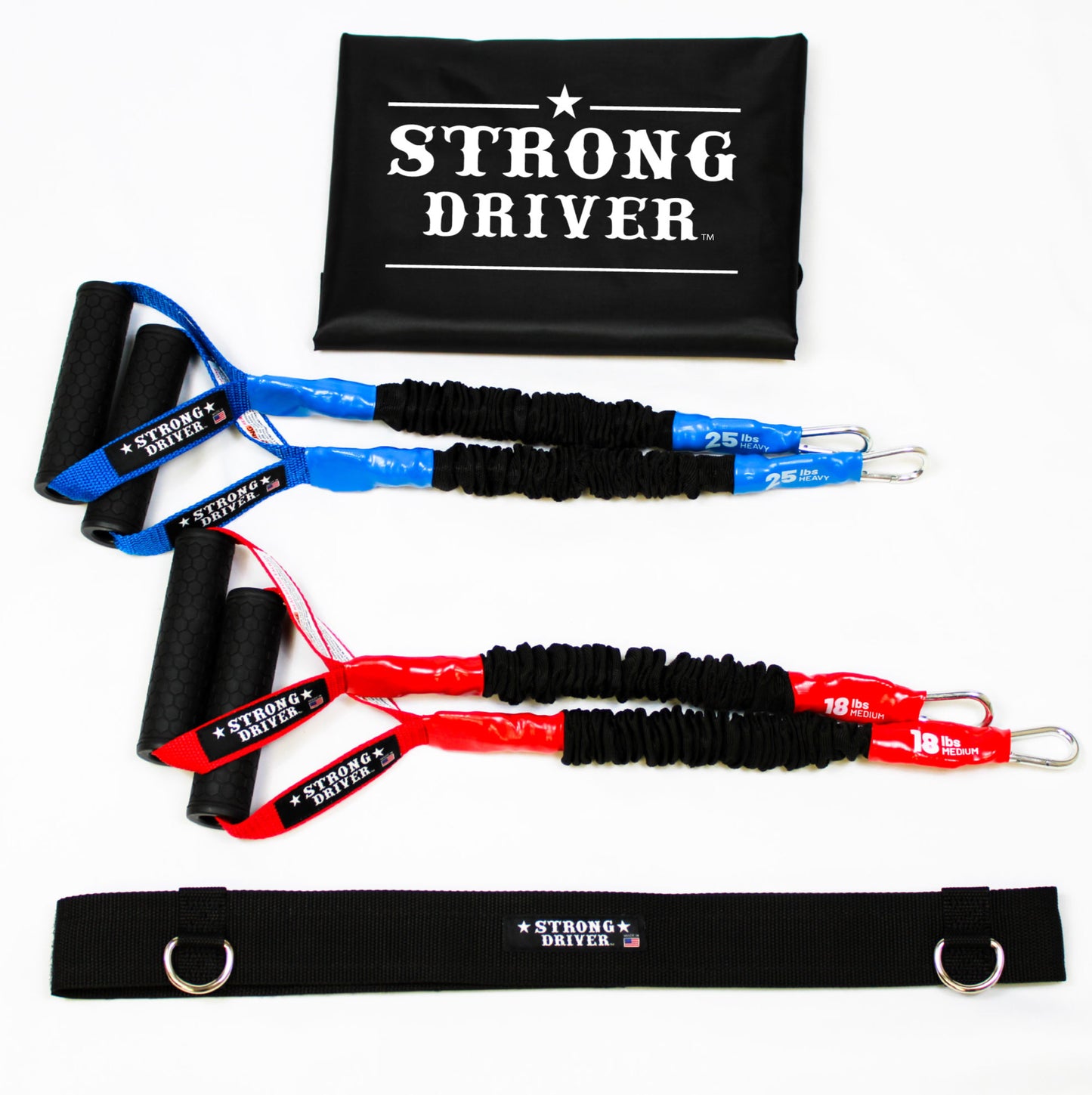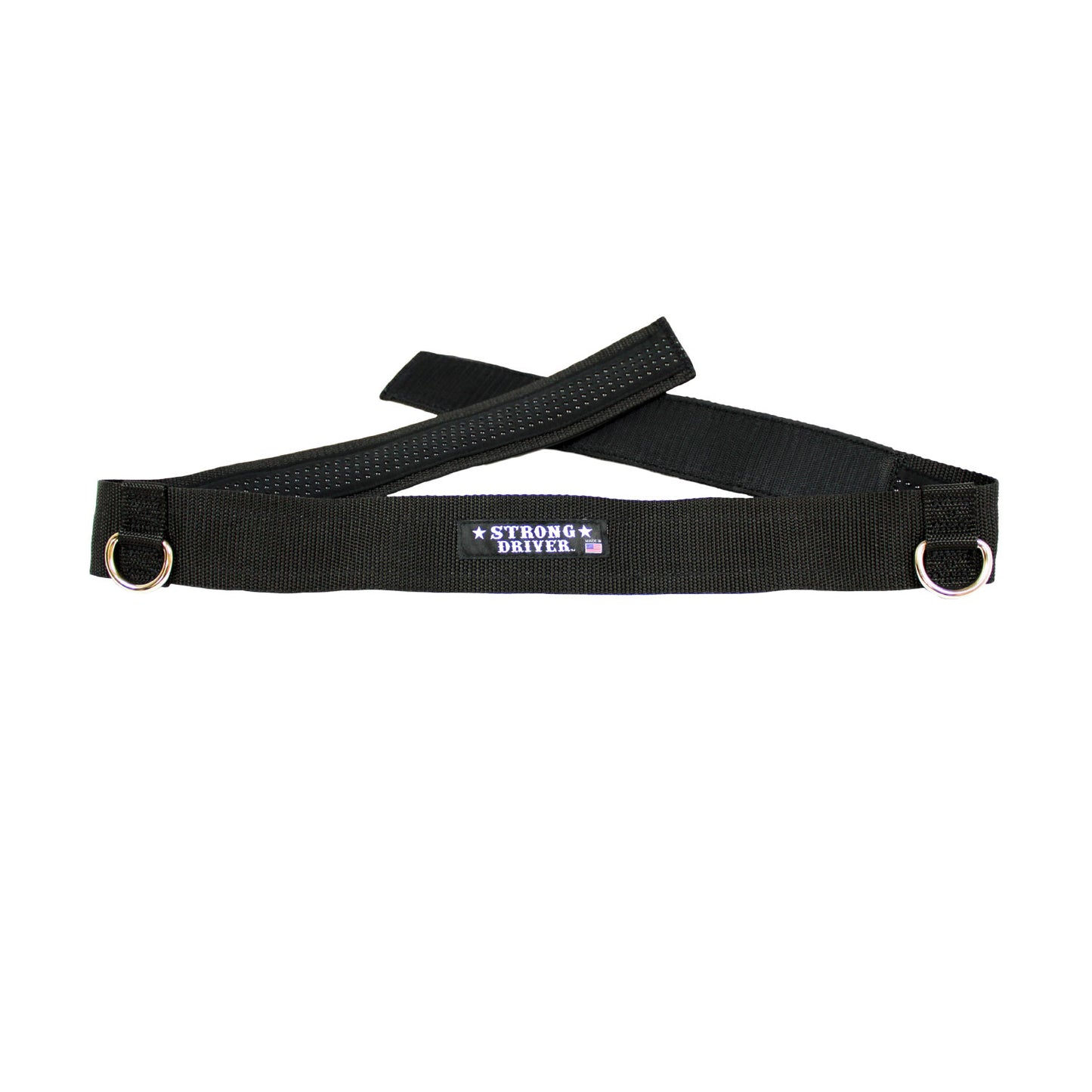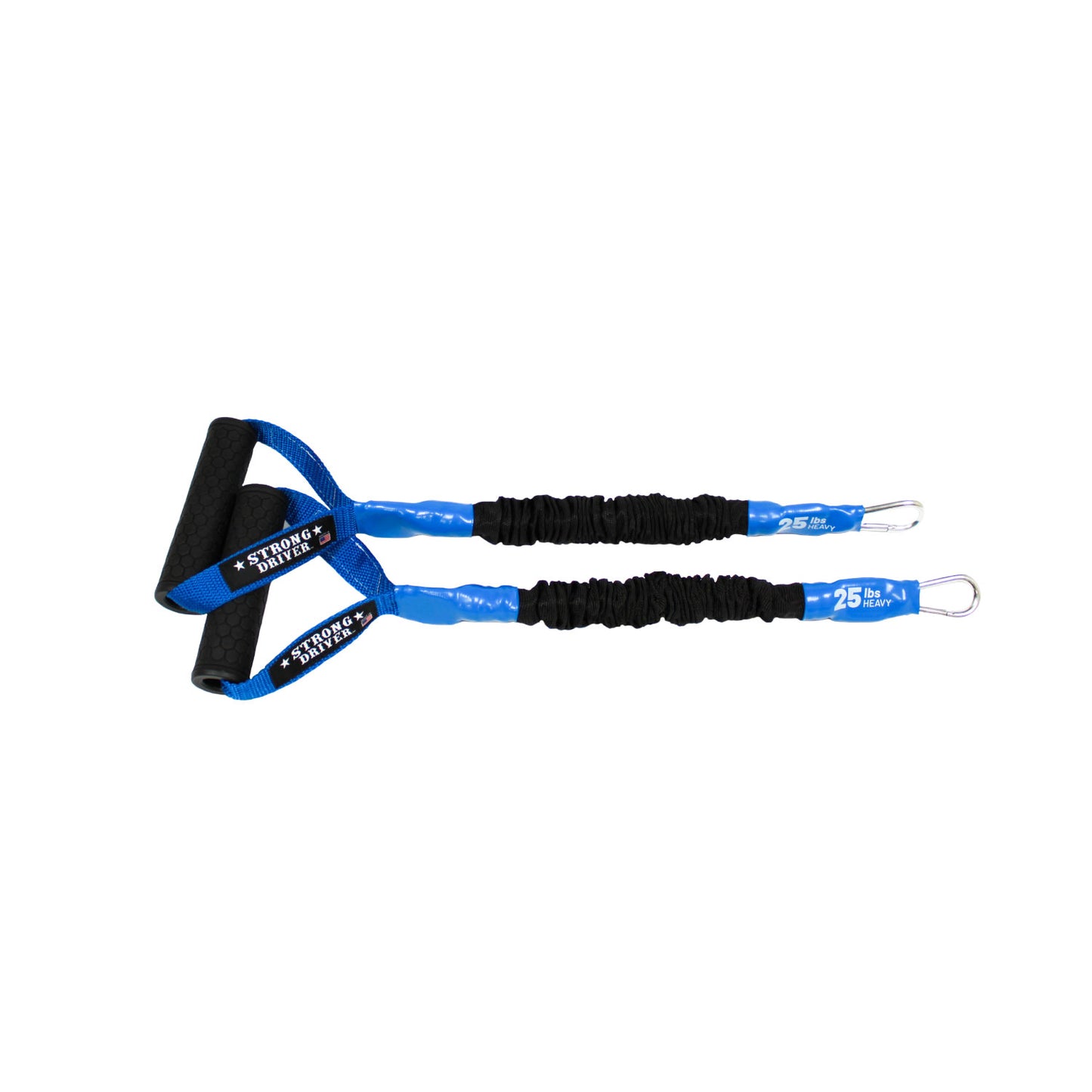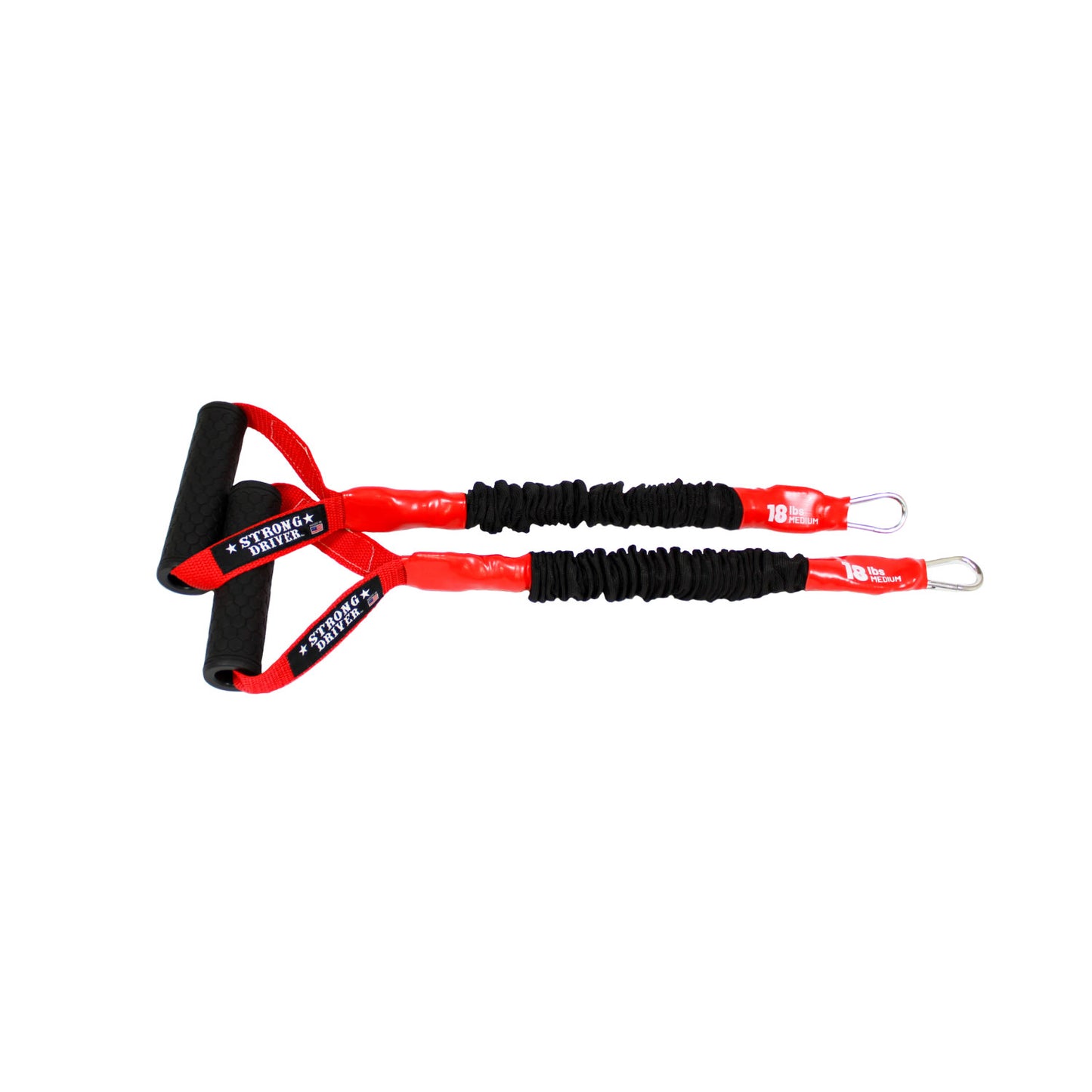 BUILT TO LAST
Resistance Bands:
The Patented Strong Driver in Cab Fitness System Bands utilize our Safety Sleeve Technology by protecting the user in the event the internal Band were to Snap. The Safety Sleeve also lengthens the life of the Bands by protecting them from harmful UV rays.
Hand Grips:
Our Larger Diameter Heavy Duty Hand Grips have a non-slip rubber grip for a longer life.
Seat Anchor Strap:
The Seat Anchor Strap is made from Heavy Duty 2" wide webbing with rubber grip silicon to help hold it in place and industrial grade Velcro to firmly secure it.
Storage Bag:
As a Bonus we include a water resistant storage bag to hold your Strong Driver Fitness equipment while you are driving down the road to your next stop. The bag offers a easy glide zipper and a webbing tab that allows the bag to be hung from a coat hook.
Exercises You Can Do In Your Cab
The Strong Driver Kit is extremally versatile. Below are a few of the most popular exercises our customers do with the Strong Driver System. Doing these just a few times a week will greatly increase your circulation, strengthen your arms, back and core.
Caution: Do Not Use While Driving...
Bicep Curl
Clip your Strong Driver Band to the base of your seat, hold the rubber grip handle firmly and curl your hand upwards towards your chest and hold for 3 seconds, slowly let the band pull your hand down beside your seat and repeat for 10 reps.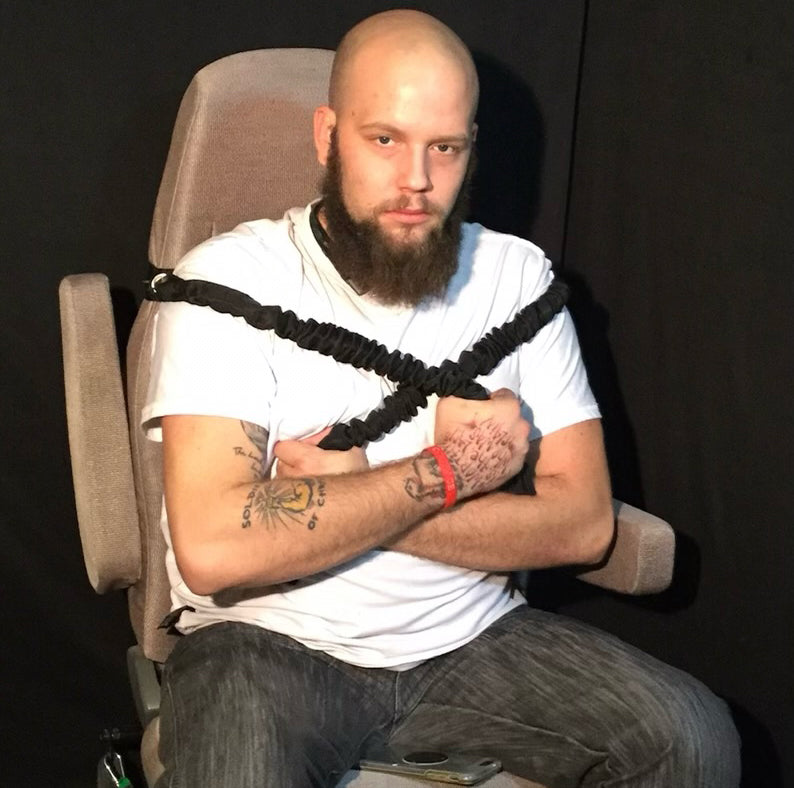 Sitting Crunch
Attach your Seat Anchor Strap firmly around your seat then attach 1 Strong Driver Band to each D-Ring. Hold both handles and cross your arms with the handles close to your chest. Tighten your abdominal muscles and lean forward, and hold for 3 deep breaths. Recover back to your upright position and Repeat for 10 repititions.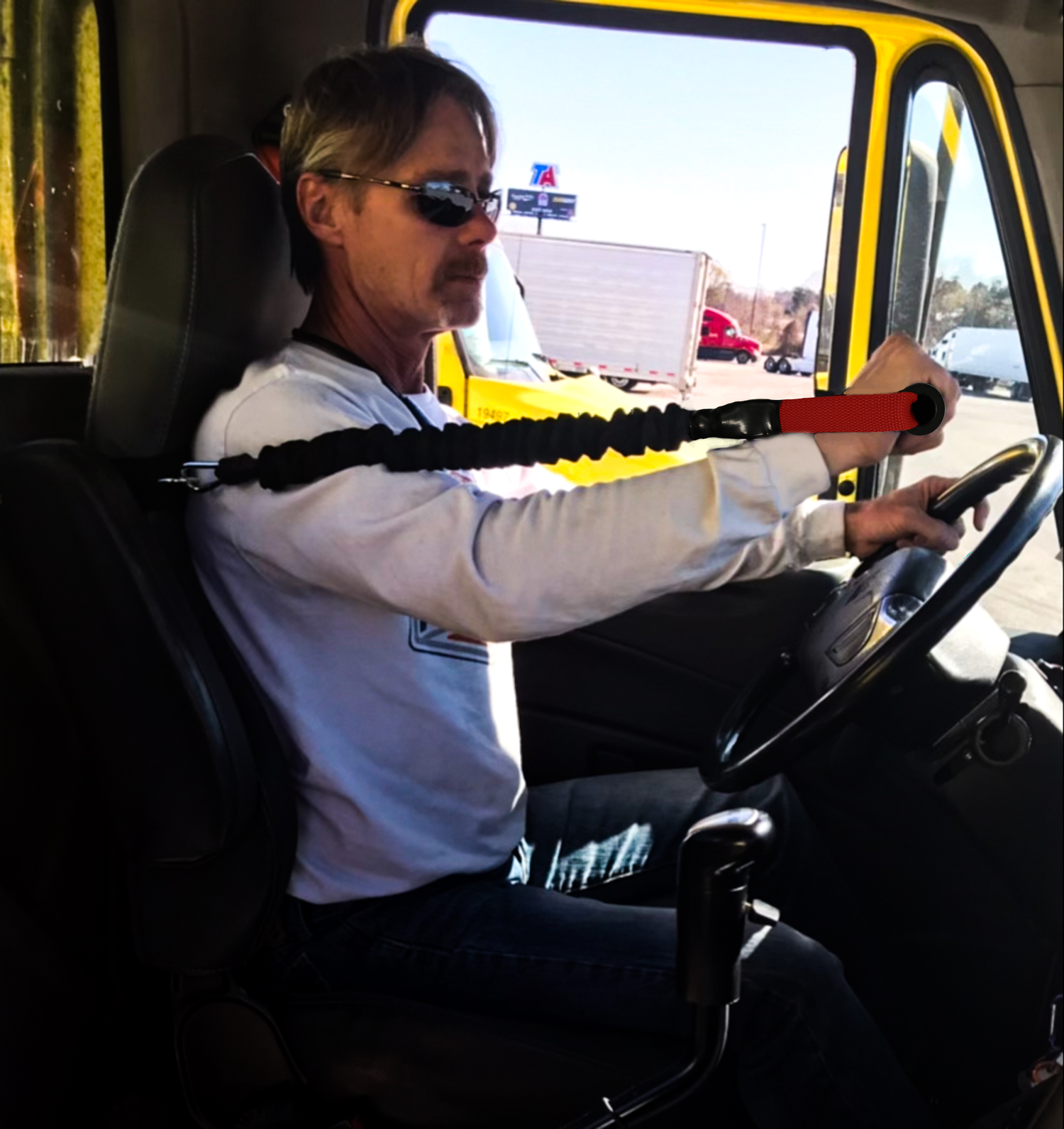 Tricep Extension Chest Press
Attach your Seat Anchor Strap firmly around your seat then attach 1 or both Strong Driver Bands to the D-Ring. Hold the handle and raise your elbow so your upper arm is parallel with your leg. Extend the Handle forward until your arm is fully extended. Pause and hold for 3 seconds squeezing the chest and tricep muscles then slowly bring your arm back to the resting position. Recover and Repeat for 10 repititions.
Note: Depending where the Seat Anchor Starp is in relation to your shoulder the band can be placed under the arm near the arm pit.
Welcome to Strong Driver
Introducing the Strong Driver - Your On-the-Road Fitness Companion of Unparalleled Quality and Safety! Proudly American-Made, this remarkable creation is a testament to the dedication and craftsmanship of its Patriotic Owner. Crafted with precision, the Strong Driver is not just a fitness solution; it's a symbol of American quality and ingenuity.
Designed with meticulous attention to detail, this innovative product caters to the unique needs of truck drivers, acknowledging their pivotal role in our daily lives. The Strong Driver features a safety sleeve covering that ensures your well-being while you work out, providing peace of mind and comfort throughout your fitness routine.
One of the Strong Driver's standout features is its remarkable versatility. Equipped with two sets of durable rubber grip resistance bands and a secure seat strap, it adapts effortlessly to your fitness preferences, enabling you to exercise effectively right in your truck cab. What's more, these bands boast an impressive long lifespan, ensuring they'll be your trusted fitness companions for countless miles ahead.
The Strong Driver is more than just a workout tool; it's a health lifeline. Prolonged sitting can take a toll on your well-being, and the Strong Driver combats this by promoting blood circulation, reducing stress, and enhancing alertness throughout your travels. It empowers you to take charge of your health on the road, enabling you to maintain strength, improve endurance, and alleviate the strains of long-haul driving.
At our company, we believe in the paramount importance of truck drivers' health. Your well-being is not just a priority; it's our mission. Join the ranks of healthier, happier truckers who have embraced the Strong Driver, and experience a new level of fitness and vitality on your journeys. Order your Strong Driver Fitness System today and conquer the road with strength, stamina, and confidence. We depend on you, and we're here to support your health every mile of the way.